Perth & District Septic Service Ltd
Perth & District Portable Toilet Rentals
Rideau Pumping Service
About our business . . . Over 50 years experience!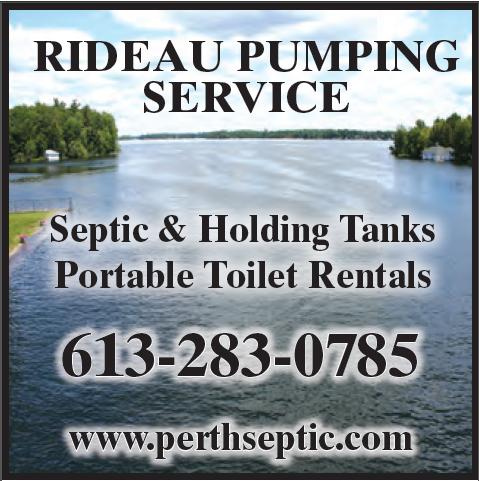 We are a family run business that has been pumping septics for over 50 years. We take pride in going the extra mile to help our customers, from talking them through a septic problem to walking the location to find the ideal placement for a portable toilet. Our company has a reputation of hygiene being our top priority, friendly and prompt service, competitive prices, and knowledge of waste management.
We purchased Rideau Pumping Service from Mr. Paul Anderson in 2014 upon his retirement. The business was established in 1958. We hope to continue serving the Otter lake, Smiths Falls, and surrounding areas with the same reliable and courteous service provided for many years from Paul.
Rick & Juanita Cordick
It pays to stick with experience.
Septic Inspections

Septic and Holding Tank Pumping

R.V./Trailer Pumping

Installation of Effluent Filters and Risers

Baffle Repairs

Portable Toilet, Handwash Station, and Holding Tank Rentals

Environmentally Friendly Products and Waterless Composting Toilets
One of our largest concerns is the environment, that is why we only use environmentally certified products to treat septic systems and maintain portable toilets.
We attend the International Pumper & Cleaner Expo and seminars for updated technology in our industry and current members of:
Ontario Association of Sewage Industry Services
Township of Beckwith
Township of Central Frontenac
Township of Drummond/North Elmsley
Township of Elizabethtown/Kitley
Township of Lanark Highlands
Township of Mississippi Mills
Township of Montague
Township of Rideau Lakes
Township of Tay Valley
Locally owned and operated.